Share the post "Aborted confirm new guitarist Harrison Patuto ahead of North American tour"
Belgian death metal fiends Aborted have recruited Harrison Patuto (ex-Vale of Pnath) as their new permanent guitarist, replacing Mendel bij de Leij.
In a statement, the band says:
Up and atom! Faster than a shark, sharper than a scalpel and has more cats than your regular disgruntled cat lady, we have a permanent replacement for Mendel – ladies and gents, please welcome Harrison Patuto as the official 5th member of the band.
Harrison writes:
It is with great pleasure that I announce my permanence within the band of ABORTED. This past year has been a surplus of hard work and good times, as we performed a total of 82 shows together. There were big shoes to fill for me, but the dedication, effort, talent and kindness of the guys has made it all the more easy for me to feel at home. There are exciting things ahead, and I could not be more honoured to be a part of it.
Watch Patuto shred through the Aborted track "Exquisite Covinous Drama" via this just posted guitar playthrough:


In more news, Aborted recently announced their new three-track EP, La Grande Mascarade, set for release on April 17th. The effort features studio recordings of "Gloom and the Art of Tribulation," "Serpent of Depravity," and "Funereal Malediction."
In addition, Aborted are getting ready to embark on their previously announced trek with Napalm Death. The band will also perform a handful of one-off shows with The Kennedy Veil, Purification By Fire, Tombs and others.
All dates are below.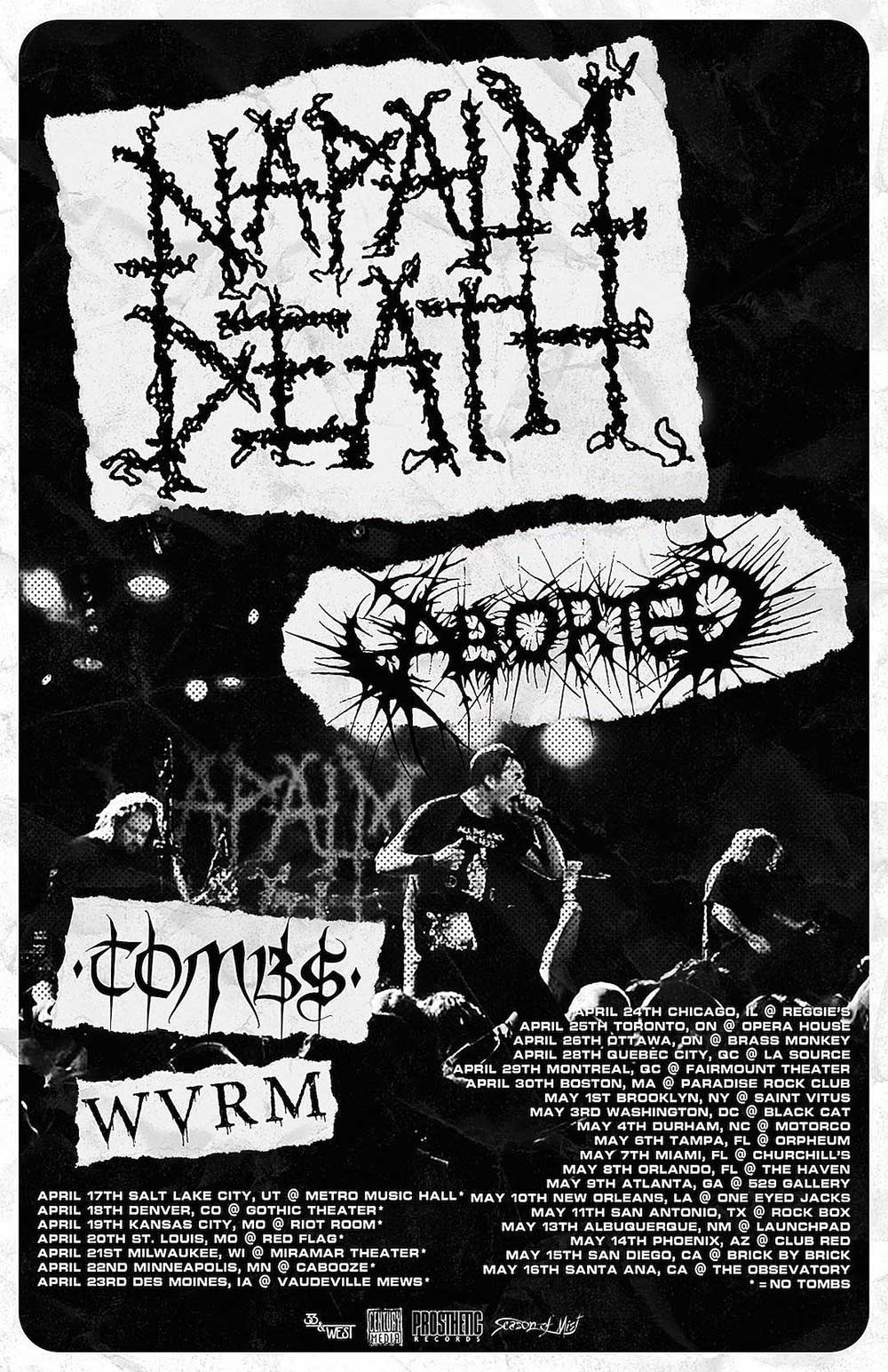 ABORTED 'THE NORTH AMERICAN MASCARADE'
w/ The Kennedy Veil, Purification By Fire
April 14 – Sacramento, CA – Holy Diver
April 15 – Reno, NV – Blue Bird
April 16 – Boise, ID – The Shredder
w/ Tombs
May 5 – Jacksonville, FL – Archetype
w/ Tombs, Wvrm
May 12 – Fort Worth, TX – Tomcats West
w/ Wolf King, Purification By Fire
May 17 – Petaluma, CA – The Phoenix Theater
ABORTED TOUR DATES
w/NAPALM DEATH
April 17 – Salt Lake City, UT – Metro Music Hall
April 18 – Denver, CO – Gothic Theater
April 19 – Kansas City, MO – Riot Room
April 20 – St. Louis, MO – Red Flag
April 21 – Milwaukee, MN – Cabooze
April 23 – Des Moines, IA – Vaudeville Mews
April 24 – Chicago, IL – Reggie's
April 25 – Toronto, ON – Opera House
April 26 – Ottawa, ON – Brass Monkey
April 28 – Quebec City, QC – La Source
April 29 – Montreal, QC – Fairmount Theater
April 30 – Boston, MA – Paradise Rock Club
May 1 – Brooklyn, NY – Saint Vitus
May 2 – Brooklyn, NY – Saint Vitus
May 3 – Washington, D.C. – Black Cat
May 4 – Durham, NC – Motorco
May 6 – Tampa, FL – Orpheum
May 7 – Miami, FL – Churchill's
May 8 – Orlando, FL – The Haven
May 9 – Atlanta, GA – 529
May 10 – New Orleans, LA – One Eyed Jacks
May 11 – San Antonio, TX – Rock Box
May 13 – Albuquerque, NM – LaunchPad
May 14 – Phoenix, AZ – Club Red
May 15 – San Diego, CA – Brick By Brick
May 16 – Santa Ana, CA – The Observatory