Share the post "DEAD BY WEDNESDAY Announce U.S. Dates on The Highnamic Duo Tour with Twiztid"
"We'll be doing all of the U.S. dates (NOT Canada) opening for the mighty Twiztid, Slaine, and
more!!!!! We played a bunch of the last Warped Tour dates with Twiztid & become friends with some of their camp. These guys are known to bring out a "token" heavy metal band with them out on tour & we are honored to be that band this time around. Yes, we know it's not a metal tour but that's the difference between DBW & a lot of metal bands… We can perform to different audiences & respect all styles of music! DBW can cross genres while still doing our thing musically & enjoy doing so!! One of the most successful tours we've ever done was in early 2000's with I.C.P. believe it or not. The crowds were huge, their fans were open minded & loved metal as well. Plus they're also super loyal & dedicated! Once they like you, they're true fans for life & actually support & buy music. In fact, we STILL have friends & fans that come out to our shows to this day that we met & played to back then who we call family!!!!!!!!!!!!!!!! So bring it on!" says the band's drummer Opus.
DBW recently released a Limited Edition Vinyl LP Re-Release w/ Bonus Tracks and Digital DL Card of their self-titled full length album that dropped on April 19th, 2019, through Combat Records/ EMP Label Group. In support, the band also released their lyric video for "Beat Down & Broken (Feat. Brazilian Jui Jitsu World Champion Gabriel Gonzaga)".
The 12 track album showcases a rebirth and rebranding of the band since their inception. A decade after their first record, the band has shown growth musically all while keeping the hard hitting grooves, integrity and passion that fans have come to expect. DBW's new record was produced by Nicky Bellmore (Dee Snider/Jasta) and was mastered by Zeuss. Their lineup has evolved as well, with the newest member, master shredder Dave Sharpe on guitar (ex-Blood Has Been Shed w/ Howard Jones, End-Time Illusion), Rob Roy on vocals and original founding members Mike Modeste on bass and Christian "Opus" Lawrence holding down the fierce foundation and furious rhythm section.
Both Sharpe and Opus of DBW also play alongside David Ellefson of Megadeth in his band Sleeping Giants.
In addition, this May, Opus and Sharpe will be heading to Japan for a couple of kick ass shows with half of the original Megadeth line up, David Ellefson (of Megadeth) and the original legendary Mega guitarist Chris Poland.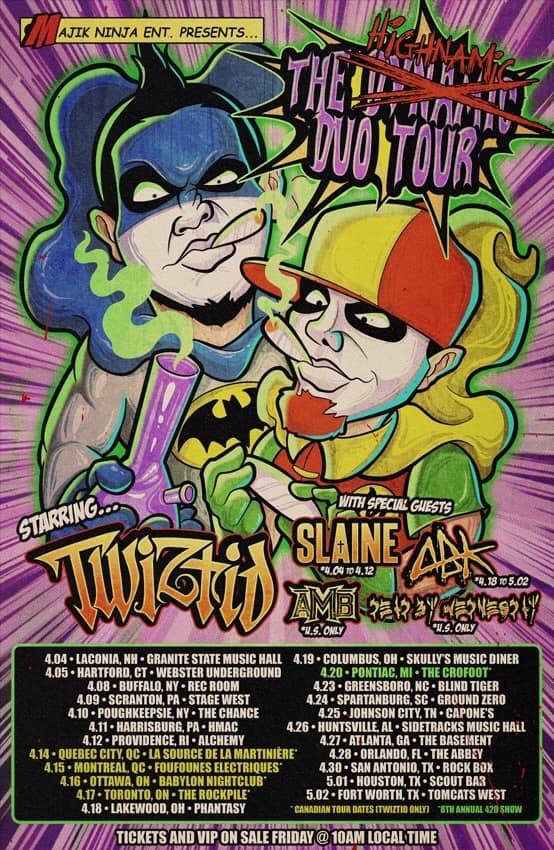 The Highnamic Duo Tour 2020!
Feat. Twiztid, Dead By Wednesday, Slaine, ABK, & Axe Murder Boys
4.04 – Granite State Music Hall, Laconia, NH.
4.05 – Webster Theater, Hartford, CT.
4.08 – Rec Room, Buffalo, NY.
4.09 – Stage West, Scranton, PA.
4.10 – The Chance Theater, Poughkeepsie, NY.
4.11 – Harrisburg Midtown Art's Center, Harrisburg, PA.
4.12 – Alchemy, Providence, RI.
4.19 – Skully's Music Diner, Columbus, OH.
4.20 – The Crofoot Ballroom, Pontiac, MI.
4.23 – Blind Tiger, Greensboro, NC.
4.24 – Ground Zero, Spartanburg, SC.
4.25 – Capone's, Johnson City, TN.
4.26 – SideTracks Music Hall, Huntsville, AL.
4.27 – The Basement, Atlanta, GA.
4.28 – The Abbey, Orlando, FL.
4.30 – The Rock Box, San Antonio, TX.
5.01 – The Scout Bar, Houston, TX.
5.02 – Tomcats West, Fort Worth, TX.
—————————
More Live with Deth Japan
5/17 OSAKA TRAD
5/18 TOKYO LIQUIDROOM
6.05 – Metal in the Mountains Fest @Pipestem Spa, Moutain Chalets & Event Center, West Virginia w/ Attila, Flaw, Sons of Texas, Upon a Burning Body, & more!