Today HEAVEN SHALL BURN release their new double album Of Truth And Sacrifice, alongside the DVD Mein grünes Herz in dunklen Zeiten (= My Green Heart In Dark Times). Additionally, the band teamed up with Philipp Hirsch again for the official video for the track "Übermacht", which is also being released today. Check out the video for "Übermacht", directed by Philipp Hirsch (www.philipphirsch.com) and produced by Heaven Shall Burn and Philipp Hirsch HERE:


"For our conditions it is an unusual video for an unusual HEAVEN SHALL BURN song and was lots of fun to shoot. 'Übermacht' is one of our favorite songs off the album and we are thrilled to hear what you think of it," states Heaven Shall Burn guitarist Maik Weichert.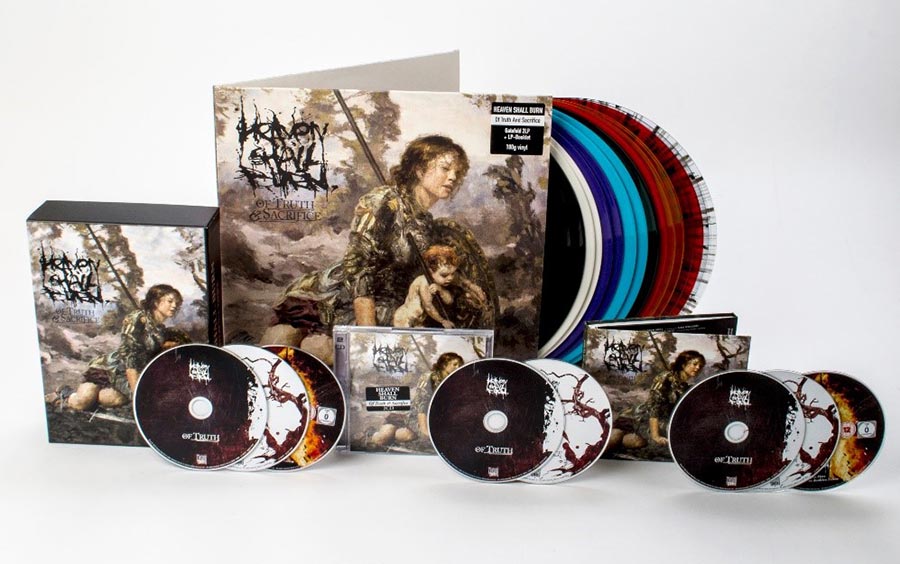 On Of Truth And Sacrifice, fans can look forward to Heaven Shall Burn's trademark sound, more unusual tunes and atmospheric strings, which the band fleshed out with Sven Helbig and recorded with conductor Wilhelm Keitel in Minsk. On top of roughly 100 minutes of music on the regular album, the limited editions come with an 80 minute documentary, "Mein grünes Herz in dunklen Zeiten" (= My Green Heart In Dark Times), by renown producer Ingo Schmoll, who followed the band for almost a year in order to get to the bottom of the phenomenon of HEAVEN SHALL BURN. Check out a trailer HERE.
Get your copy or listen to the Of Truth And Sacrifice online HERE.
HEAVEN SHALL BURN TOUR DATES:
05.06.-07.06.2020 (DE) Nürnberg – Rock im Park
05.06.-07.06.2020 (DE) Nürburg – Rock am Ring
11.06.-13.06.20 (CH) Interlaken – Greenfield
10.06.-13.06.20 (AT) Nickelsdorf – Novarock
18.06.-21.06.20 (BE) Dessel – Graspop
19.06.-21.06.20 (FR) Clisson – Hellfest
26.-28.06.20 (DE) Gräfenhainichen – Full Force
02.-04.07.20 (ES) Viveiro – Resurrection
09.-12.07.20 (CZ) Vizovice – Masters of Rock
09.-11.07.20 (SE) Gävle – Gefle Metal Festival
17.-18.07.20 (NL) Eindhoven – Dynamo Metalfest
31.07.20 (DE) Cologne – Lanxess Arena, supporting Slipknot
30.07.-01.08.20 (ROU) Rockstadt Extreme Fest
HEAVEN SHALL BURN is Maik Weichert (guitar), Eric Bischoff (bass), Alexander Dietz (guitar), Marcus Bischoff (vocals), and Christian Bass (drums).
Press release courtesy of The Orchard