American blackened death metal icons Pessimist (ft. Kelly McLauchlin of Possessed, I Am Morbid, etc.) will be releasing their signature "Blood for the Gods" mead as part of Brimming Horn Meadery's 'Mead and Metal" series! The mead is made with plum and aronia berries that have been aged 6 month in oak barrels, promising a "dark, sweet, and divine" flavor palate. The drink will be made available on June 11 to coincide with the release of the vinyl reissue of the band's sophomore record of the same name.
Pessimist mainman Kelly McLauchlin comments, "We will be releasing our very own 'Blood for the Gods' Mead, from our friends at Brimming Horn Meadery, in Milton, DE as part of their "Mead and Metal" series! The brew should be ready to be released at the same time as our album on June 11! This is a craft Mead (also called Honey Wine) brewed specially for us – I worked with the brewmaster on developing the ingredients – it will be dark red 'Dark, Sweet and Divine,' just like our record, 'Blood for the Gods!' Brimming Horn Meadery is also a sponsor of – and will be in attendance this year – at Decibel Magazine's "Metal and Beer Fest" in Philly!"
ICYMI: PESSIMIST have recently entered the Black Attack Studios in Los Angeles, CA (USA) to begin recording their long awaited fourth full-length album, 'Keys to the Underworld,' with engineer Ira Black! This will be the band's first full-length record since 2002's 'Slaughtering the Faithful.' In addition, the band is also now welcoming drummer Tim Yeung (I AM MORBID, DIVINE HERESY, HATE ETERNAL, etc.) to the recording lineup! 'Keys to the Underworld' will be released by Season of Mist at a later date. Stay tuned!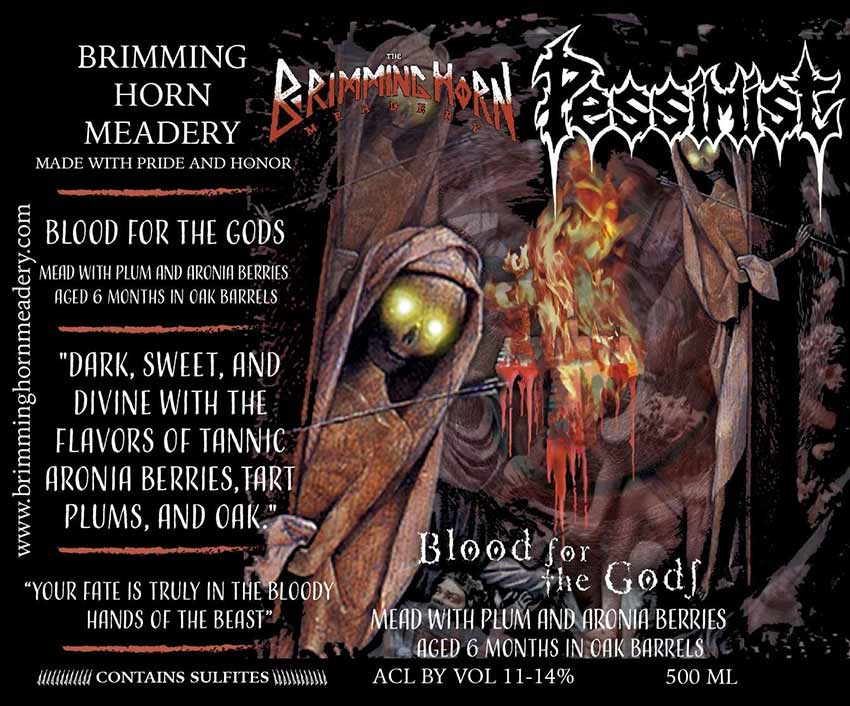 Artist photo by Ember Lorraine Contreras
Press release courtesy of Season of Mist
Also Check Out: Beyond Creation announce signature beer