Signals Of Bedlam share "Pendulum In Swing" in advance of the February 26th release of their Liar's Intuition album. The track is a polemic attack against environmental destruction and finds the band at their most manic and technically accomplished. Vocalist Cero Cartera riding high on a polyrhythmic foundation of growling bass, punching guitar stabs and Rich Abidor's drums.
When discussing the track, Cartera explains that "There are those who poison our environment while touting conspiracy theories about those who try to stop them. The energy of this demolitionist movement will reverse course and the backswing will be tremendous."
As much as any track on the upcoming Liar's Intuition album, "Pendulum…" highlights the dynamic power of the relationship that the band have developed with producer Frank Mitaritonna since their first outing together on 2016's Escaping Velocity.
"Pendulum In Swing" continues the ambitious trajectory set by previous Liar's Intuition releases "Twilight Rebel With Red Cap" (which delivered a scathing caricature of the aging ultra-con) and the restless and explosive lead-off single "Take The Crown". Liar's Intuition is an album that ultimately serves as a focus piece on deception. Cartera explains, "This record was written in a time when truths that were once considered immutable, like equality and justice, suddenly came into question. On the surface, it looks like a natural result of opposing forces clashing, but when you peel back the layers, you start to see that this collective confusion, 'the great confounding', is the product of deliberate deception." "Pendulum In Swing", "Twilight Rebel With Red Cap" and "Take The Crown" set the stage for Liar's Intuition in fierce fashion; delivering furious dispatches against injustice backed by some of the freshest arrangements in the metal scene.
On Liar's Intuition, Signals Of Bedlam once again bring Frank Mitaritonna onboard as producer. Mitaritonna is responsible for harnessing the fierce grit of bands including The Dear Hunter, The Dillinger Escape Plan, and Glassjaw, and oversaw production of Signals Of Bedlam's 2016 release Escaping From Velocity. The reason for the welcome return of Mitaritonna's guiding hand is explained by guitarist Tom Hoy, who notes that the producer's creative investment in his projects is the guiding light that draws the group back to him. "He'll tell it like it is, he'll want to know why each bit of the song is the way it is and if it's the best way it can be. He's really the last trusted line of creative control before we release something to the world."
Liar's Intuition has been four years in the making and is a record that the group describe as their first truly collaborative effort. Built on over a year of twice-weekly songwriting sessions, and over 21 days in the studio, the album finds Signals Of Bedlam delivering the most deliberate and complete album of their career so far.


Signals Of Bedlam – Liar's Intuition February 2021:
1. Twilight Rebel With Red Cap
2. Pendulum In Swing
3. $&@ttention
4. Red Sunflower
5. Phantom Pain
6. Badlands
7. Sinister Sleight
8. Take The Crown
9. The Fire Below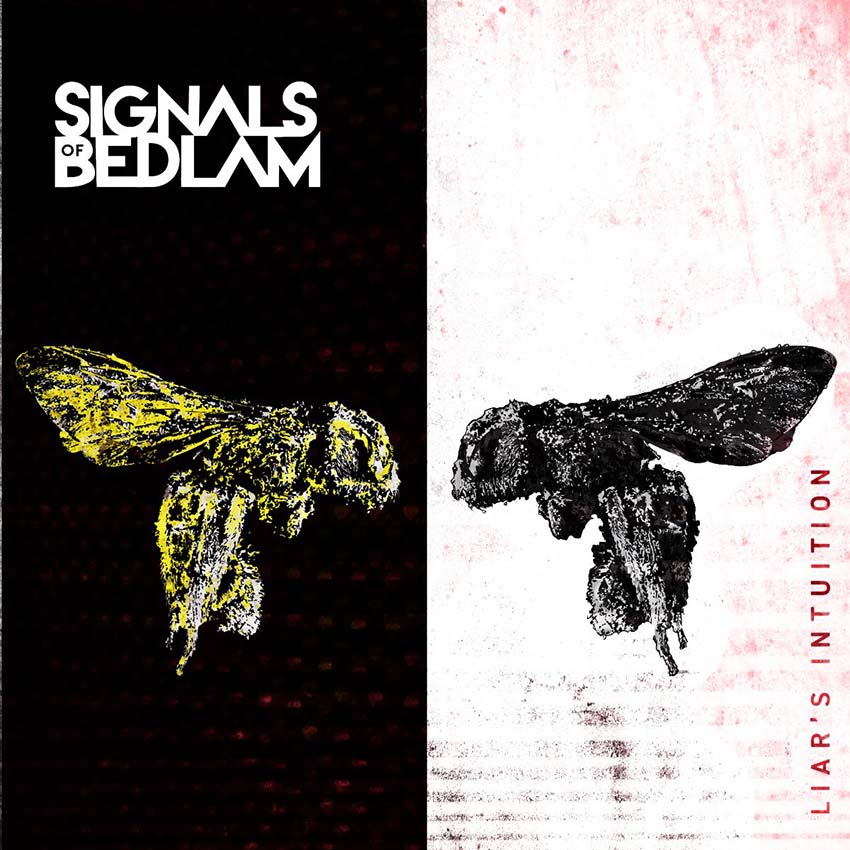 Press release courtesy of Death To Slow Music
Also Check Out: Saxon drop new video single "Speed King" (Deep Purple cover)