Share the post "Spotlights to release 'We Are All Atomic' EP later this month"
Following their acclaimed 2019 album Love and Decay and the announcement of their slot on this summer's massive Faith No More / Korn package, Brooklyn trio SPOTLIGHTS return with the ambitious new We Are All Atomic EP to further validate the majesty of their singular shoegaze/doom/post-metal blend..
Initially released as the capstone to Year One of the Blues Funeral Recordings POSTWAX subscription series, We Are All Atomic sees SPOTLIGHTS diving deeper into sweeping, droning, atmospheric soundscapes and pulsating, thrumming dirges.
Founded by bassist and vocalist Sarah Quintero and guitarist, synthesist, drummer and vocalist Mario Quintero, with Chris Enriquez joining later on drums, SPOTLIGHTS' 2016 debut long-player, Tidals, earned the band a wide sweep of accolades and saw them hand-picked to join the Deftones and Refused on tour that year.
Signing to Ipecac Recordings for 2017's Seismic, more touring was undertaken, including a lengthy stint with The Melvins, laying groundwork for the massive Love & Decay album in 2019.
Of We Are All Atomic, Mario says:
"I wanted this to feel immediate and raw, in a very loose way, encapsulating the beginning to the end of a life or cycle. Not a human or animal life, but a cycle of anything. Everything from a wave in the ocean, to a life, to the universe itself is a cycle, moving through a tumultuous beginning, a settled middle and a catastrophic ending."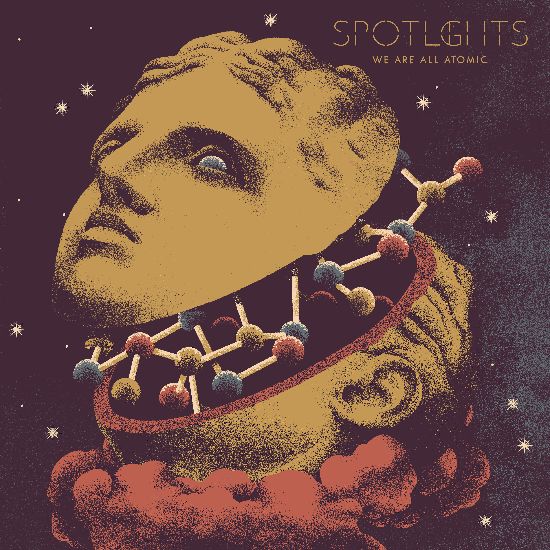 We Are All Atomic will be released on digital, CD and LP from Blues Funeral Recordings on March 27th.
SPOTLIGHTS tour dates supporting Faith No More and Korn this summer:
Aug. 7 2020 Denver, CO Pepsi Center
Aug. 9 2020 Salt Lake City, UT USANA Amphitheatre
Aug. 11 2020 Auburn, WA White River Amphitheatre
Aug. 13 2020 Wheatland, CA Toyota Amphitheatre
Aug. 14 2020 Mountain View, CA Shoreline Amphitheatre
Aug. 16 2020 Irvine, CA Five Point Amphitheatre
Aug. 17 2020 Phoenix, AZ Ak-Chin Pavilion
Aug. 19 2020 Albuquerque, NM Isleta Amphitheater
Aug. 21 2020 Dallas, TX Dos Equis Pavilion
Aug. 22 2020 Austin , TX Germania Insurance Amphitheater
Aug. 23 2020 The Woodlands, TX Cynthia Woods Mitchell Pavilion
Aug. 25 2020 Alpharetta, GA Ameris Bank Amphitheatre
Aug. 27 2020 Scranton, PA The Pavilion at Montage Mountain