Share the post "Pyrrhon announce new LP 'Abscess Time,' release new single "Another Day In Paradise""
New York's shape shifting, extreme metal quartet, PYRRHON announce their landmark full length album titled, Abscess Time to be released on June 26, 2020 via Willowtip Records. The 12 song album – running nearly 60 minutes – follows the bands 2017, critically acclaimed release of What Passes For Survival, and shows the band at their most sophisticated, alluring, and inventive. Poised with perpetual evolution, PYRRHON reveal how fearless, sonically explosive, and triumphant experimental death metal can be.
About Abscess Time, PYRRHON vocalist Doug Moore comments:
"The album is about watching the human world slowly slide towards collapse while you're too busy trying to survive until the next day to do anything about it. The process seems to take forever, even though little things change every day. And since you're constantly straining to keep your head above water, it's all just the background against a foreground of more immediate dangers. Humans can adapt to anything, so fool yourself into thinking it can last forever – but then, one day, the boil bursts."
PYRRHON have released a new track off Abscess Time titled, 'Another Day In Paradise' alongside a long form interview with the band. The track and interview are up now at Decibel Magazine. About the track, Moore comments:
"One of the most odious aspects of modern life is the insistence that you always act like you're insanely lucky and blessed to be doing what you're doing, whether it's a job or a creative pursuit. Projecting optimism and gratitude is basically a social requirement in most situations, even though the vast majority of people don't feel like that at all! Performing that sense of false cheer makes me feel like an evangelist for a religion I don't actually believe in."
Abscess Time will be released on double LP – with a vinyl exclusive D-side bonus track, compact disc, and on all digital platforms on June 26, 2020. Physical pre-order is available today via Willowtip HERE and digital can be found HERE.
Track listing, stunning album artwork by New York artist, Caroline Harrison, and album info for Abscess Time can be found below.
Stream "Another Day In Paradise":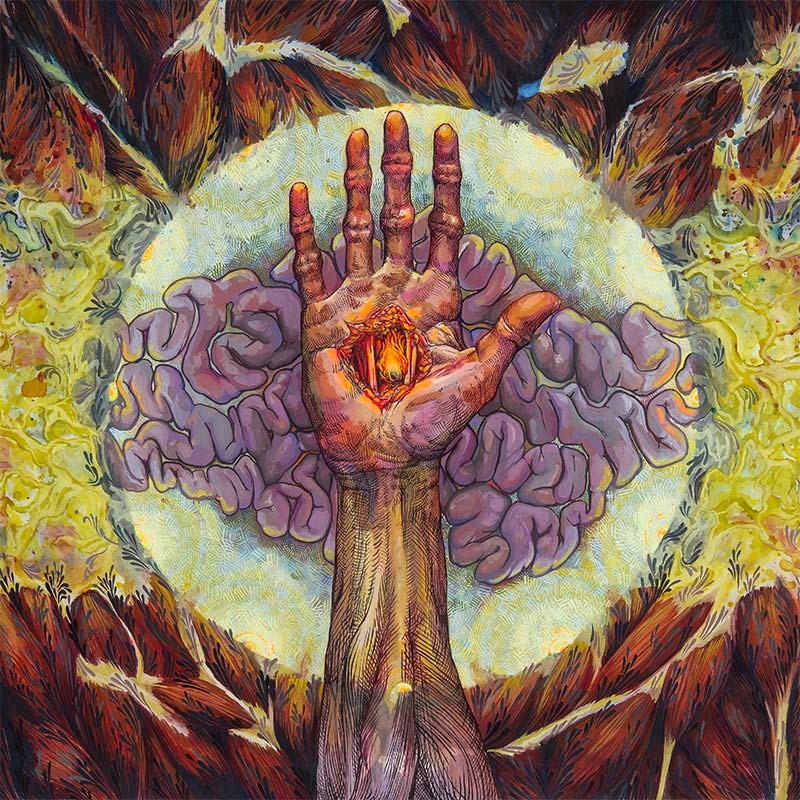 Track listing:
1. Abscess Time
2. Down At Liberty Ashes
3. Teuchnikskreis
4. The Lean Years
5. Another Day In Paradise
6. The Cost Of Living
7. Overwinding
8. Human Capital
9. Cornered Animal
10. Solastalgia
11. State Of Nature
12. Rat King Lifecycle
Recorded, mixed, mastered in January 2020 by Colin Marston at The Thousand Cave, NYC
Album artwork by Caroline Harrison
Photos by Caroline Harrison
Pyrrhon is:
Dylan DiLella – guitars
Erik Malave – bass, vocals
Steve Schwegler – drums
Doug Moore – vocals
Press release courtesy of Perfect World Productions PR