Share the post "Code Orange are 'Back Inside The Glass' for the premiere of their new intense virtual event (stream review)"
During a jam-packed weekend of online concerts, including Puscifer and Mr. Bungle, this week's winner for Most Creative and Entertaining Live Stream goes to Code Orange. They kicked bootyholes. They're bold enough and hip enough to understand what the digital social media space means. They brought the fire, the flame, the goop, the poop, the power, the metal, and a bunch of fans digitally spliced in on TV screens to act as the audience. They did it just right, from an incredible stage show to wearing a badass Pantera T-shirt.
I missed Machine Girl 'cause I was still rocking out to Mr.Bungle's stream. But thanks to 48 hour viewing, I was able to watch from the beginning, and then quickly fast forward past them. Sorry, not sorry. I don't think I could actually view the whole set in one sitting, let alone ever. I applaud Machine Girl for doing what they do, and I like weird sh*t, but I couldn't get into it. Maybe if they were eating a corpse while singing or throwing sh*t like GG Allin, I might have liked it, but I just wasn't feeling it. I faintly heard the Faith No More cover of "We Care A Lot," so points for that, but I couldn't actually listen to it. Moving on.
Year of the Knife. They definitely brought the power and the heaviness, but something about the band just ended up boring me. I hate to be the guy that says 'I already heard this' but I already heard this. I'm not saying they sucked, they definitely kicked ass, but the hardcore scene is a little overrun these days. Plus, the singer got so sweaty my keyboard got wet. Anyway, YOTK was a fun watch, they just aren't at the same level of bands like Knocked Loose or Code Orange.
Jesus Piece on the other hand brought the thunder. I'm a big fan and love the use of the double kick. Drummers have a huge role in directing the music. You can play the same Taylor Swift chords, but add in some double bass and some hard slams and those chords can sound heavy as f*ck. This band does a great job at directing their music to be heavy, fun and interesting. My one gripe would be the backup singer/bassist, who looked like Timothee Chalamet and sounded like a squeeze toy. I probably just sound like an a**hole, but his voice irked me and took away from the brutality of the band.
Now, Code Orange! Woah. A force to be reckoned with. There's a reason why they're the headliner and why they're blowing up all over the place, including their ties with the WWE. Code Orange destroyed the live stream with hard-hitting visuals and show-stopping riffs. They have such a unique, new, and digitally hard metal sound that works perfectly with this outlet. At one point, whoever was cutting the video was definitely tripping out and going wild switching camera angles. I almost got a brain aneurysm, but I survived. The show kicked ass and I could definitely watch that performance again. They debuted a ton of new material off their album, 'Underneath,' opening with "You and You Alone" and eventually performing "The Easy Way," "Back Inside The Glass," "Erasure Scan" and more. I still don't think the stream was ACTUALLY live but whatever, maybe that's just not the best route. In the end, Halloween was done just right. Great music, great visuals, and thanks to my one friend who showed me his penis on Zoom for the duration of the show. Really looking forward to seeing how Code Orange will take over this space. They were the first ones to do it when Covid hit and this last event really shows how far they have come.
Code Orange set-list (via setlist.fm):
01. You and You Alone (Live debut)
02. Real
03. The Mud
04. The Easy Way (Live debut)
05. Back Inside The Glass (Live debut)
06. A Sliver (Live debut of song in full)
07. 3 Knives
08. A New Level (Pantera cover)
09. The New Reality
10. Erasure Scan (Live debut)
11. Thinners of the Herd (First time since 2015)
12. Autumn and Carbine
13. In Fear
14. Swallowing the Rabbit Whole
15. Let Me In (Live debut)
Tickets to Code Orange's 'Back Inside The Glass' livestream are still available for purchase as of this posting at this location. Check out videos below thanks to Code Orange's Instagram.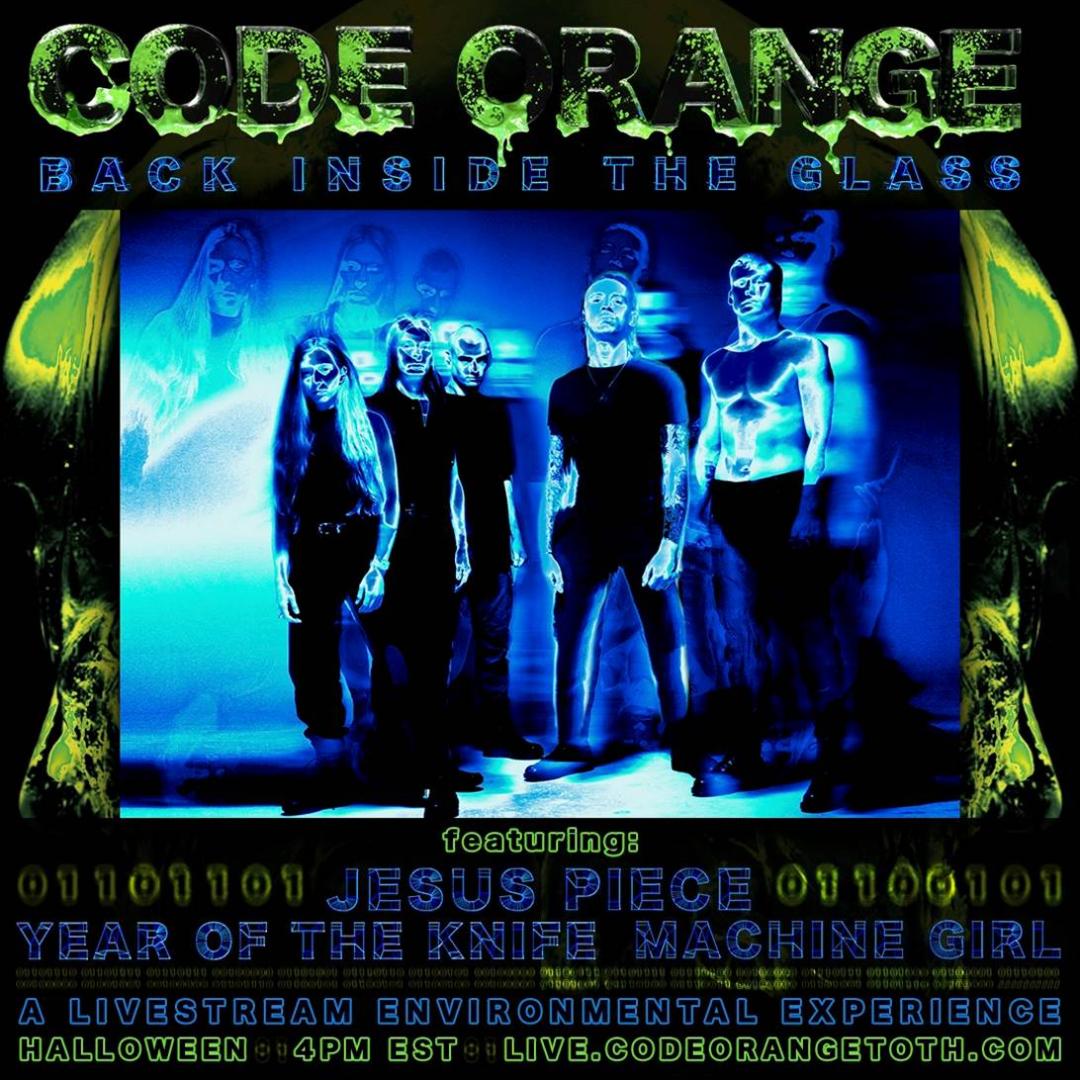 _________

Featured photo grabbed from Code Orange's Facebook page. The author of this post was provided with a review ticket to this stream.